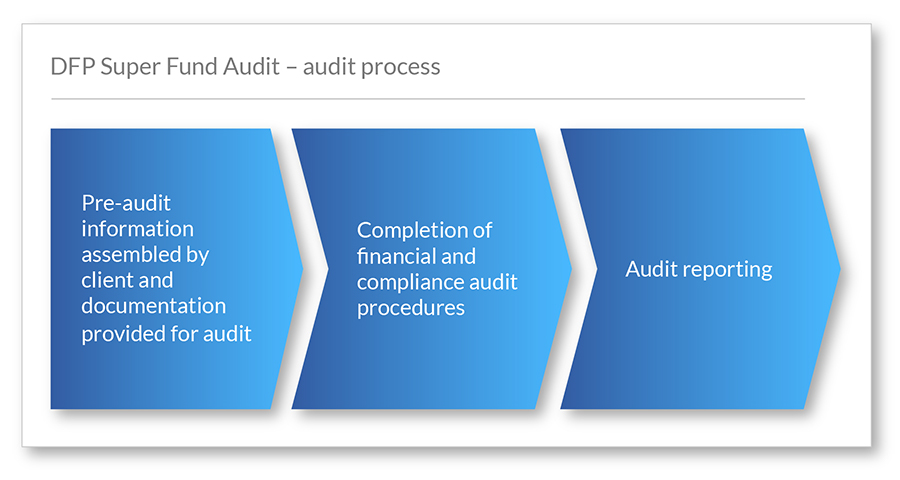 Our audit process is designed to ensure the completion of the audit in a timely and efficient manner.  Our process can be summarised in the following steps:
1.     Completion of pre-audit information request and provision of audit documentation
•     Comprehensive pre-audit documentation checklist provided to minimise additional requests for information once the audit commences.
•     Audit documentation provided by client for audit (on-site, hardcopy or using secure client login).
2.     Financial and compliance audit procedures undertaken
•     Audit commences when documentation provided.
•     Timely communication of any additional information required to complete audit.
•     Material issues identified during the audit  process communicated to client as, and when, they arise including potential solutions to rectify issues.
3.     Audit reporting
•     Issue of audit deliverables, including audit report and management letter.
•     Additional audit reporting, including ATO auditor contravention report and Section 129 notices, may be required depending on the issues identified during the audit.
At DFP, we offer technical support over the phone, or in person, to answer any potential SMSF audit issues (financial and/or compliance) that you may have during the year. We find that by discussing these issues as soon as they arise, and not just at audit time, we can improve the efficiency of the audit process and ensure that there are no 'surprises' during the audit reporting phase.